[vc_row css=".vc_custom_1572276897088{margin-top: 5% !important;margin-bottom: 5% !important;}"][vc_column][vc_column_text]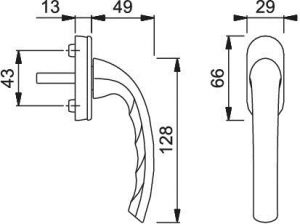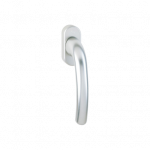 Model: 0710/U26
HOPPE window handle
Tested to RAL-GZ 607/9
Stop-in position: 90°
Cover: partial cover cap
Base: nylon, supporting lugs
Spindle: HOPPE solid spindle
Fixing: concealed, for M5 thread screws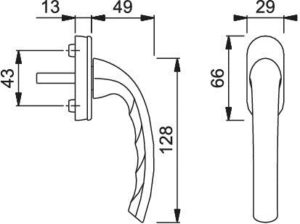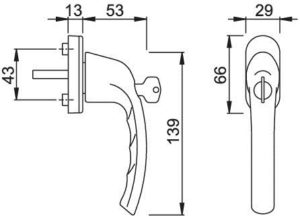 Model: 0710S/U26
HOPPE lockable window handle
Locking mechanism: push cylinder, reversible key
Stop-in position: 90°
Cover: partial cover cap
Base: nylon, supporting lugs
Spindle: HOPPE solid spindle
Fixing: concealed, for M5 thread screw
Secustik® – The window handle with the built-in security you can hear
Our Secustik® window handles contain a patented jamming-device which provides integrated security. This makes it more difficult to move the window fitting unlawfully from outside. It works by a coupling element acting as a sort of mechanical diode. This allows for normal use of the window handle from inside, but jams the handle if anyone tries to turn it from outside by way of the fitting.
As the handle is turned through 180 degrees from the closed position to the tilt position, the jamming-device makes a series of clicks – proof of the built-in security you can hear.
European patent EP 1121501
Secustik® is a registered trademark and protected by patent.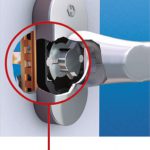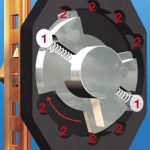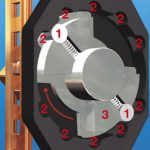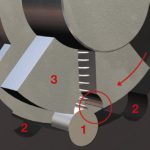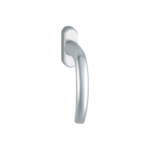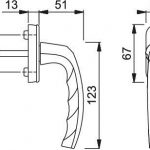 Model: 0530/U76
HOPPE Secustic window handle with narrow rosette:
Stop-in position: 90°
Cover: partial cover cap
Base: nylon, supporting lugs
Spindle: HOPPE solid spindle
Fixing: concealed, for M5 thread screws
Flip folding handle:
Design eliminates tendency to "collapse" during operation
Allows screen release without removing the crank handle
Reduces interference with blinds and drapery
[/vc_column_text][vc_row_inner][vc_column_inner width="1/2″][vc_single_image image="4693″ img_size="full" alignment="center" onclick="link_image"][/vc_column_inner][vc_column_inner width="1/2″][vc_single_image image="4692″ img_size="full" alignment="center" onclick="link_image"][/vc_column_inner][/vc_row_inner][vc_row_inner][vc_column_inner][vc_column_text]Sealable gasket
Reduces water/air infiltration and eliminates caulking
Minimizes mounting surface damage in punching or routing of operator cut-out
Overlapping lip creates stable mounting surface and improves seal endurance
[/vc_column_text][/vc_column_inner][/vc_row_inner][/vc_column][/vc_row]