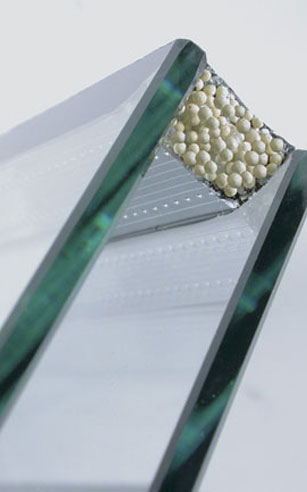 Glass plays an increasingly important role as building regulations place great emphasis on saving energy in both residential and commercial designs. The selection of increased thermal insulation or glass with a lower U Value, combined with solar control, is an important decision in a building envelope's thermal performance.
Maximum energy savings, superior interior comfort
Viridian ThermoTech™ is a range of sealed insulating glass units that offer improved insulation. For example: by incorporating Viridian EnergyTech,™ a Low-Emissivity (Low E) glass for greater thermal insulation, ThermoTech decreases heat conduction between outside and inside; or by selecting solar control glass with reflective or Low-Emissivity coatings (eg Viridian EVantage™), ThermoTech can optimise energy management whilst maintaining natural light transmission. By reducing the air-to-air heat transfer, ThermoTech provides a more stable and controllable internal environment and is suitable for all climates.
Metal Spacer
Two pieces of glass are separated by a metal spacer and sealed to provide a hermetically sealed air gap. It has a primary water vapour proof seal and the secondary seal is supplied standard as polysulphide. Structural silicone secondary seal is an option upon request. The airspace is provided with a desiccant to prevent condensation forming within the unit.


Features and benefits
Increased insulation and reduced energy costs
Wide range of solar control options that can be customised for each project
Suitable for hot and cold climates
Can be incorporated with a Low E coating for additional insulation
Reduced condensation
Thermoplastic Spacer TPS®
TPS® is a butyl-based thermoplastic material. It is UV stable with integrated desiccant and applied directly onto the glass by a computer-controlled nozzle. This non-metallic spacer offers the ultimate heat insulation. In itself, it is an effective gas and moisture barrier. Units are supplied with polysulphide secondary seal as standard. The space is filled with argon gas as standard which further enhances the performance of the unit. Combine it with a silicone secondary seal and it is perfectly suited for structural glazing. Structural silicone is available as an option upon request.
Features and benefits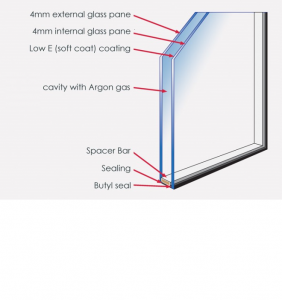 Almost any shape, size and thickness including offset or stepped units – all four sides are possible
Uniform temperature over the entire surface
Tolerates thermal stresses and pumping wind loads
Structural silicone seal (upon request) with argon gas fill for unmatched insulation
Reduces outside noise factors by up to 50% or more
Argon gas standard
Inbuilt desiccant in the TPS® prevents condensation forming in the unit
Triple glazed options are also available in TPS only
Considerations
Glazing compounds, sealants and gaskets need to be approved by Viridian for suitability.
Frame design – the Viridian Warranty relies on frame design in accordance with AS/NZS4666. Do not expose ThermoTech edges to standing water and moisture as this can result in seal failure. The frames must incorporate impervious weather seals or a self-draining system.
Wind load and safety determine the type and thickness of glass required – refer Australian Standard AS1288 or New Zealand Standard NZS4223.
Installation must be in accordance with AS/NZS4666. Please refer to the technical glazing specification on the website for further installation instructions.
Visual characteristics and manufacturing tolerances – ThermoTech is manufactured to AS/NZS4666. Also refer to the Viridian website for specification and installation information, including distortion and reflection from changes in exterior and interior pressure and temperature.