Slash your energy bills
and maximise your internal comfort with
our uPVC Double Glazed
Windows
We'll beat any like for like quote by 10%*
Benefits of uPVC Double Glazed Windows and Doors

Cool in Summer
Keep your home perfectly cool during those hot summer months

Warm in Winter
Keep your home warm during winter with our double and triple glazed windows and doors
Energy Efficient
You can achieve more than 6 star energy efficiency and a u-value of up to 0.77 u-value

Save on your power bills
Reduce your power bills by up to 90% when compared with single glazed timber and aluminium counterparts
BAL 40 Compliant
Our products are self extinguishing which is great for Bushfire prone areas that are rated up to BAL40
Reduce Unwanted Noise
Reduce unwanted noise
by up to 80% with our extensive range of double and triple glazed options
Extremely Secure
Our Windows & Doors use an advanced, secure multi-locking system which keeps you safe from nasty, unwanted intruders
Maintenance Free
Our Windows & doors are require minimal maintenance and are extremely durable - no cracking, fading, peeling or warping

No Condensation
Unlike Aluminium and Timber, uPVC Windows and Doors do not cause condensation which means no mould or water build up
Check Out Our Range Of uPVC Double Glazed Products
Slash your energy bills by up to $900 each year​
Our uPVC Windows and doors are specifically engineered to withstand Australia's harsh, unpredictable climate.
Compared with standard residential Aluminium frames, our windows and doors are up to 5 times more energy efficient and are designed to reduce your power bills by up to 90%! 
You'll keep your house at the perfect temperature all year round, no matter which season it is outside. 
Unlike Timber and Aluminium, our products won't crack, fade, peel, corrode or warp over time. 
All of our products are durable and built to last for a lifetime.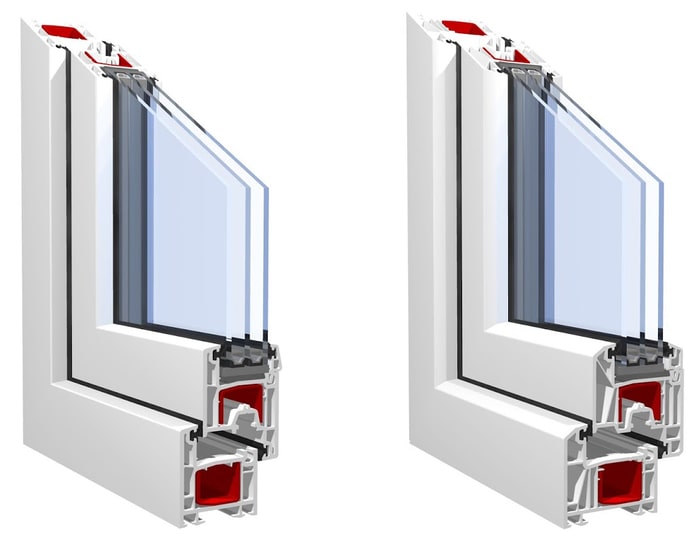 What are Double Glazed Windows?
Double glazed windows, known as IGU, are windows that have two panes of glass that are separated by a spacer that is filled with Air, Argon or Krypton gas.
Argon gas performs better than air and has low conductivity, which is what you want.
The optimum thermal gap between the panes of glass should be minimum 12mm.
Double glazing adds an insulation layer, which means that your home stays cool in summer and warm in winter.
It's important for your double glazed windows and doors to have non-conductive properties, which means they don't attract heat and cold, such as our multi chamber uPVC profiles that use both re-enforced steel and patented advanced composite materials.
For climates that are very cold such as the snow, you might want to consider our triple glazed window and door options, which offer even better thermal and noise insulation.
What should I look for when choosing uPVC Double Glazed Windows?
Unfortunately not all uPVC Double Glazed Windows are made the same. 
This is why there's a wide range of prices you might receive when shopping around for quotes. 
Premium quality uPVC window and door suppliers should use high quality European Profile systems that are UV Stabilised, to specifically handle Australia's harsh climate. 
The next thing that's super important, is using the highest quality German supplied hardware available, such as Siegenia. 
Finally, ensuring you have a quality glass supplier that's locally sourced. 
If you'd like to visit our showroom, get in touch to book an appointment today.
Australian Made for Australian Standards
Our products are manufactured right here in  Melbourne, Victoria. 
PVC Windows Australia uses the most advanced European CNC Automated Technology and experienced experts to fabricate and oversee the manufacturing process from start to finish. 
This means you get the highest quality uPVC Windows and doors at the best price, with the fastest turn-around time and you're helping to keep jobs local. 
Unlike companies who import their products, you won't have to wait 16+ Weeks for your windows and doors, hoping that they arrive on time without damage, faults or additional costs. 
Get in touch today and find out how we can help you achieve a more energy efficient home. 
Why should you choose
uPVC Windows & Doors?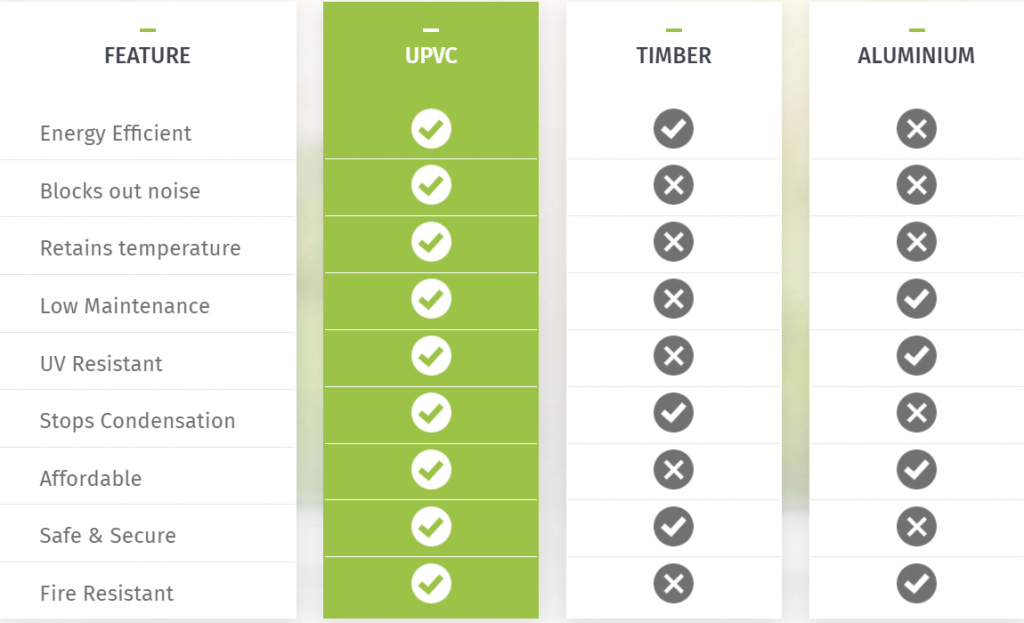 Give your home the internal comfort it deserves.
Get your FREE, no obligation quote today
Why choose PVC Windows Australia?
PVC Windows Australia is  Australia's most trusted uPVC Double and Triple Glazed windows and doors manufacturer, supplier and installer.
PVC Windows Australia was established in 2004 with a vision to supply the Australian market with the most
premium energy efficient windows and doors available at an affordable price.
All of our products are specifically made for the Australian market, using the highest quality parts from
Germany and other parts of Europe. 

Happy Customers & Growing

Years Manufacturing Experience

Customers Refer Us To Their Friends

Projects Completed This Year
What are you waiting for?
Grab your FREE, no obligation quote today
We are extremely happy with the windows and the work the guys heve done. The windows are perfect and the guys did a wonderful job installing them. Everything has exeeded our expectations. Thank you to you and ash for your great work and helping us. I will definitely use you guys in the future and recommend you to other.
We installed PVC Australia windows and doors in our recent home build. We are delighted with the high quality of the window construction as well as by the appearance of them. and receive many admiring comments for passers by and from friends. The quote for the windows and doors was lower than other PVC companies, and they were the most appealing of the window styles that we looked at. I would confidently recommended this company and these windows and doors to anyone interested
I have been using Pvc Windows Australia since 2014. We achieved the highest energy rated townhouse that didn't cost the earth. We got them in timber looks and even colorbond colors that other Pvc suppliers don't have available. Pvc Windows have always come to the rescue within 24hrs. Ash, I belive your the best in the industry, honest not a pushy salesman and your knowledge and technical advice has always made my projects run smoother. More windows in 2019
We had heard a lot about Pvc Windows Australia, was intially reluctant because we didn't know much about their produts. We purchased windows and doors for one of our projects. we couldn't believe the sound insulation, no more wind of draft coming through the windows like you do with cheap aluminium systems. Was worth every cent we paid. We will continue to purchase from Pv Windows Australia for many years to comme. Thanks guys for all your help.
Installing uPVC doors in your home has never been easier.
With our 100% Australian-made and owned products, we believe in providing the highest quality to our consumers at unbelievably competitive prices. 
uPVC doors can transition your home from the outside and inside, providing a modern aesthetic appeal on the exteriors and perfect weather resistance on the interiors of your home. With a 6-star energy efficiency rating and non-corrosive materials, our double glazed uPVC doors can help you save money on your energy bills and save time and energy spent on maintenance. Our doors also come with noise reduction and multi-locking security features that keep your home extra safe and secure.
We take pride in our top class manufacturing capability with the latest technology and automated procedures, that enable us to consistently provide quality products across our entire range that meet Australian standards and regulations.
With us, you never have to compromise – we provide a wide collection ranging from Sliding and French doors to Tilt and Turn, and Bi-fold doors, there are endless possibilities to what we can do for you! We also provide a wide range of vinyl colour options and laminates that are extensively tested for weather resistance and colour retention to ensure you never compromise on design and we never compromise on quality.
Get in touch today and let our team of experts provide you with the optimal solution, from customised measurements to professional installation procedures.
Our house windows and doors also provide excellent weather sealing,
keeping the cold out in winter and heat out in summer.
Our extensive range of doors and windows types include awning,
casement windows, sliding windows, tilt and turn windows, stacking
windows and doors, French doors, hinged doors, tilt and slide windows
and doors, lift and slide double glazed doors.
Make the shift today to uPVC Windows for your home and workplace for a smarter living.
PVC Windows Australia, specialises in double glazed uPVC windows that are the smarter choice for modern Australian spaces, whether residential or commercial. Whether you're looking for functionality, security, or energy savings, our windows aim to tick all the right boxes.
We use the latest German engineering and automated production procedures to provide the highest quality product in the market. Our window solutions are Lead-free and UV stabilized for Australian climate conditions and adhere to Australian standards including the latest Bushfire regulations. These windows give more flexibility and ventilation support than regular window solutions and have weather sealing characteristics that protect your property from drastic effects of the weather.
The weather sealing properties of our uPVC windows also help you save on your energy bills, with a 6-star efficiency rating, these windows keep the cold out in winter and the heat out in summer, giving you more comfort and long-term savings. Add to that, our windows are designed and manufactured in-line with modern interior design trends, that elevate your space to the next level with a clean aesthetic appeal and increase the real-estate value of your property in the competitive market.
Explore our extensive range of uPVC window types to find the best fit that works for you, and we will cover the rest. Our dynamic range includes Awning, Casement, Sliding, Tilt and Turn, and Bi-fold type windows, in a range of colours and specifications to suit your needs.
Protect yourself from the unpredictable Melbourne weather with UPVC doors & windows. An Australian owned and operated brand, we provide best in market services for PVC door and window solutions in and around Melbourne.
We operate as a one-stop-shop for all your UPVC doors and windows needs, from measurements to custom production, all the way through to installation and after-sale services. At PVC Windows Australia, we are a locally owned and operated business with our production facilities located right here in Melbourne for PVC doors and windows, enabling us to swiftly meet demand and production needs for our entire range of products.
Thanks to our industry-leading production capabilities and highly trained personnel based in Melbourne, we pride ourselves on our ability to achieve customer satisfaction time and again.
Our double glazed uPVC doors and windows are lead-free, UV stabilized, and non-corrosive and non-flammable, removing the concern for maintenance and durability. They are the safer and smarter option for your property as they not only provide added security but also help enable saving on your energy bills with our 6-star efficiency rating. They are environmentally friendly and reduce the effects of noise and weather conditions, making your property comfortable and cozy all year long, no matter the season.
Our doors and windows come in a variety of colours and types, along with door accessories and window accessories to provide a complete well-rounded solution along with an aesthetic appeal. Call or visit our Melbourne branch today to get in touch and make your switch to UPVC doors and windows.
PVC Windows 17-23 Bancell St, Campbellfield VIC 3061
Get Your Free Quote Today
Blog
Wondering what's the big idea about double glazed windows? Here's a simple guide explaining what all the fuss is about; the details, benefits, and advantages
Read More »